Zampa & Asociados is made up of a team of young professionals with a solid track record in their respective areas of expertise, who share a work ethic aimed at achieving excellence, speed, and the highest quality in each of their acts.
Founded by Dr. Sebastián Zampa, the Firm has the participation of lawyers with a great attitude of service, client loyalty and confidentiality developed through years of practice and fluid lawyer-client contact.
The young dynamism of our legal firm allows us to provide a wide spectrum of services to our clients, while accompanying them safely through adequate knowledge of their needs, which enables us to provide creative and timely solutions to their requirements.
Likewise, the multidisciplinary approach that our practice entails allows us to provide useful solutions for the needs that our clients require and the necessary support to ensure that their objectives and goals are met with high standards of efficiency for their satisfaction.
On the other hand, we always take into account the particular situation of each client and, therefore, we agree on the conditions and terms of our professional relationship individually, specifically adapting our service to each specific case to ensure the most favorable cost/benefit ratio.
ABOUT THE FOUNDING PARTNER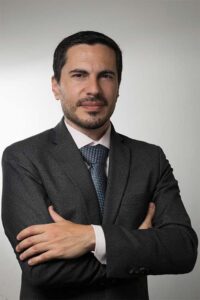 Dr. Sebastián Zampa is a lawyer from Rosario graduated from the National University of Rosario (U.N.R.).
He completed his university studies in just four years and seven months, with the curricular duration of the degree being six years. He achieved this record time by maintaining high performance and academic quality without neglecting his affable participation in all areas of university life.
Thus, while he was in his formative stage, he had a marked interest in extracurricular academic activities, thus approaching international Arbitration competitions. In this field, he was awarded as Champion by obtaining first place in the IV INTERNATIONAL INVESTMENT ARBITRATION COMPETITION (Bogotá, 2017) forming the team representing the U.N.R., after winning the oratory rounds at the best universities worldwide.
At the same time, during his student days, he began his practice as an intern in civil, commercial and family courts with the idea of knowing in depth the court work in these areas in order to get a holistic idea of the legal landscape.
After obtaining his law degree, he continued his training in renowned legal firms with extensive experience nationwide, practicing with lawyers versed not only in professional quality but also in the values of work, ethical practice and professional responsibility.
He also carried out his teaching vocation in two chairs at the National University of Rosario, in the areas of Philosophy and Securities, of which he is an Associate Professor and from which he passionately contributes to the training of new colleagues.
In the collegiate sphere, he had the honor of being appointed on several occasions with the position of President OF THE ARBITRATION INSTITUTE of the Rosario Bar Association, an academic/practical position whose purpose is the study and promotion of this method of conflict resolution within the legal field. At the same time, he currently carries out professional guards in which he guides other lawyers in this jurisdiction.
Dr. Zampa has also made different publications for magazines and books (both digital and on paper) as a team and exclusively authored. The writing and research topics range from arbitration to topics of interest in the field of Tax Law and Corporate Responsibility, passing through Investment Law and Labor Law.
Last but not least, it is worth mentioning that the founder of ZAMPA Y ASOCIADOS collaborates in pro bono legal assistance activities for people who are in a condition of vulnerability, as an instrument of change to achieve a fairer society by contributing to the democratization of access to the rights of citizens.